The first thing our tour guide showed us was the Aqueduct of Segovia (granted, it was kind of hard to miss). Still, it's amazing that it's still standing. Wikipedia tells me that it was likely built around AD 81-96. It's been reconstructed several times, but still how freaking amazing is that? It was fully functional as a water supplier until the mid- 1800s.
After studying the aqueduct, we went to the Alcazar of Segovia. Super cool bonus (in my opinion), the castle was one of the inspirations for Cinderella castle in Walt Disney World. You see it, right?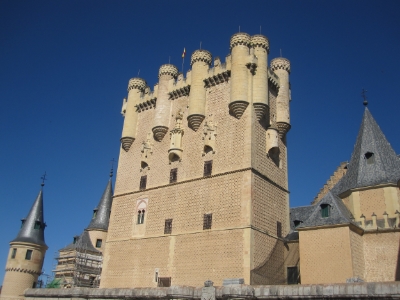 You could pay to go into the museum and tower (which would give you an amazing view of the city at the top) or just the museum. I believe the tower was only 2 euro more, so why not, right?
O.M.G.
I am such an idiot. I did not think. Remember, this is a castle. It's old. Places weren't built for comfort back in the day. So I entered the tower and started climbing the spiral staircase. And climbing. And climbing. These steps were steep. There wasn't much space, so it was a good thing I don't get claustrophobic. I'd complete a spiral and think "I have to be almost there." Nope, there was another spiral to complete.
Oh, did I mention that I don't exercise? I'm okay with this fact until I find myself in situations like these. I seriously thought I was going to die. My lungs were BURN.ING.
Eventually, after taking a couple of rest stops and completing Lord only knows how many spirals, I made it to the top. Beautiful views as far as the eye could see.
After taking photos and catching my breath, I headed down the stairs, thanking God that gravity was on my side this time. It wasn't a total picnic, however. Remember how I said the stairs were steep? Yeah, they were.
When I got to the end, I noticed a sign by the entrance to the tower that clearly says there are 152 steps to the top. How I missed that going in, I don't know. I am such an idiot.
Onward to the museum in the castle. My notes tell me that I thought the castle was "really cool." LOL. It was. Like people used to live there. There was a lot of artwork inside. See pictures.
That was it for Segovia. I wish we could have spent more time there. It's a lovely city.
Next, we headed to Bilbao. I spent most of my time in the Guggenheim Museum. I went because I've never gone to a Guggenheim Museum before and who knows if I'll ever make it back to Bilbao again?
The main exhibit at the museum was by Niki de Saint Phille, who came to prominence in the 1960s. When I stepped into the first room, I admit I kinda thought she was a crazy artist lady. She would fill balloons with paint and attach the balloons to a canvas. She would then shoot the balloons, the paint would run out of the balloons, and tada, she'd have a painting. But as I continued on, reading more about her work, and watching interview clips, her message resonated more and more with me. She was a staunch feminist, who challenged the perceived value of women in society. According to her, the world would be a better place if women ran it because men think taking emotion out of decisions is good, and it's not. You have to care for people.
At the end of the tour, I went into the gift shop thinking I could buy something to commemorate my trip to see her art. However, none of the souvenirs appealed to me, and it occurred to me that while I appreciated her message, I didn't actually like the art itself. But that's often my reaction to modern art. Oh well.
That was it for today. It was a pretty low-key day (other than me almost dying). Bilbao isn't known for its nightlife, so there was no clubbing/staying out late. I can say that Bilbao (like everywhere else in Spain) is beautiful.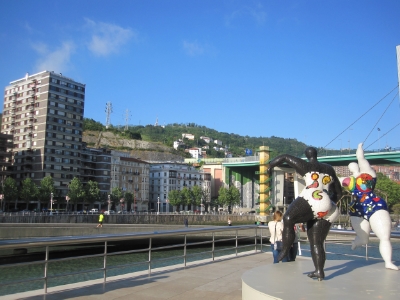 Tomorrow - Day 4: The Day I Ran with the Bulls